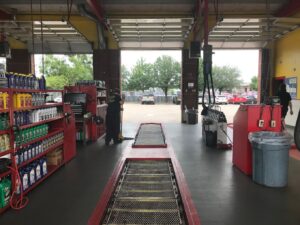 Kwik Kar Denton – Colorado Blvd Auto Care: Your One-Stop Auto Service Center
Welcome to Kwik Kar Denton, your trusted Colorado Blvd auto care center. Conveniently located at 2233 Colorado Blvd, Denton, TX 76205, our technicians are here to help you with all your vehicle's needs. We offer a wide range of auto care services, including oil changes, state car inspections, scheduled maintenance, and more.
Auto Care Services
Our auto care services go beyond just oil changes. We offer comprehensive services to keep your vehicle in top condition, including tire rotations, tune-up services, AC servicing, and transmission service. Our technicians are knowledgeable in all aspects of auto care and use state-of-the-art equipment to diagnose and repair any issues your vehicle may be experiencing.
Regular maintenance is key to keeping your vehicle running smoothly and preventing costly repairs down the road. We recommend that you follow the manufacturer's recommended schedule for maintenance services. This includes services like spark plug replacement, engine light diagnostics, and more. Our staff can help you schedule regular maintenance appointments to keep your vehicle in top condition.
Regular tire rotations can help extend the life of your tires and ensure that they wear evenly. We recommend getting a tire rotation every 6,000 to 8,000 miles or as your vehicle's manufacturer recommends. We will rotate your tires and check the tire pressure and tread depth to ensure your tires are in good condition.
Your vehicle's transmission is a complex system that requires regular maintenance to keep running smoothly. We recommend getting a transmission service every 30,000 to 60,000 miles or as your vehicle's manufacturer recommends. Our Denton auto care technicians will inspect the transmission fluid, filter, and pan for any signs of wear and replace them if necessary.
In Texas, air conditioning is essential for staying comfortable in the hot summer. Our AC servicing includes a full inspection of your vehicle's AC system, including the compressor, condenser, and refrigerant levels. We can also perform AC repairs and recharge your system if needed.
Kwik Kar Oil Change
Regular oil changes are vital to keeping your engine running smoothly. At Kwik Kar Denton, we provide oil change services for all types of vehicles. We offer regular oil and synthetic options to cater to your vehicle's needs. We will advise you on the best oil for your car and remind you of your next oil change, ensuring you never miss a beat.
State Car Inspections
In Texas, state car inspections are required yearly to ensure that your vehicle meets specific safety and emissions standards. At Kwik Kar, we are an authorized inspection station and can perform state inspections on all car and truck makes and models. We can also perform emissions testing, so you can rest assured that your vehicle complies with local regulations.
Expert Auto Care Tips
Our technicians are well-versed in auto care and passionate about sharing their knowledge with our customers. Here are some helpful tips for maintaining your vehicle:
Stick to the manufacturer's recommended maintenance schedule to avoid costly repairs down the line.
Regularly check and maintain fluid levels, including engine oil, coolant, and brake fluid.
Inspect your tires for wear and proper inflation regularly.
Pay attention to any dashboard warning lights and address them promptly to prevent further damage.
Choose Kwik Kar Denton for All Your Auto Care Needs
Our commitment to providing outstanding auto care services in Denton, TX, has earned us a loyal customer base. We can't say enough good things about our customers' trust in us to service their vehicles. We invite you to experience our top-quality auto service center firsthand.
If you're in Denton or the surrounding areas and need professional auto care services, don't hesitate to visit us at 2233 Colorado Blvd, Denton, TX 76205. Our friendly staff is always ready to help you with your automotive needs. To schedule an appointment or if you have any questions, please call us at (940) 484-1900.
We look forward to serving you and keeping your vehicle running at its best.